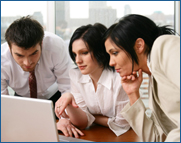 Business Intelligence



Intertec Solutions

develops a variety of Business Intelligence (BI) software products for database management, data warehousing and mining, data integration and application development. We specialize in developing Advanced Analytics and Data Management Solutions that are optimized for your market sector.



Help Desk


Telephone support for multi-manufacturer software, hardware and networking products. If a problem cannot be resolved over the phone, the Help Desk will dispatch the call to your provider of choice for on-site support



IT Staffing


Affordable access to the resources you need to expand your business and meet demand for on-site technology services. Trained personnel are available on a project-based, temp-to-hire or direct-placement basis



Cabling


Correctly installing your cable and infrastructure backbone the first time will alleviate downtime and disruption within your network. Proper installs are so important to future-proof the design of how you want your company to be setup. A proper install will reduce future costs such as the installation of equipment, moving, add-ons, and other changes. You will need a standards compliant structured cabling system:



Product Procurement and Fulfillment Services


Getting the right product at the right price on time is the main concern for most IT buyers. At Intertec Solutions, our team of expert and experienced account managers will provide you with timely and accurate price quotations, and offer industry specific solutions to help you save time and money. Leveraging its relationships with industry leaders such as Microsoft, Hewlett Packard, and Cisco we will make sure you get the right product, at the right price, with the best delivery.